The School
The World Aviation Helicopter Flight Academy ATO is certified by the Spanish Aviation Safety Authority (AESA) with registration E-ATO-272. We are the only helicopter pilot training center on mainland Spain offering courses in English. With our own fleet of helicopters for training purposes, programming your practical training sessions is straightforward and can be adapted to the student and the time available. Theoretical instruction is provided according to a scheduled study program with a distance-learning option available for a part of the course.
At World Aviation Helicopter Flight Academy, our student-pilots are foremost our customers and will always be the priority. We strive to adapt the study schedules and flight-training to provide the most cost-effective results in the industry.
World Aviation Helicopters aims to provide the most complete training for helicopters, whether you will be flying for pleasure or as a gateway to an elite career-path.
---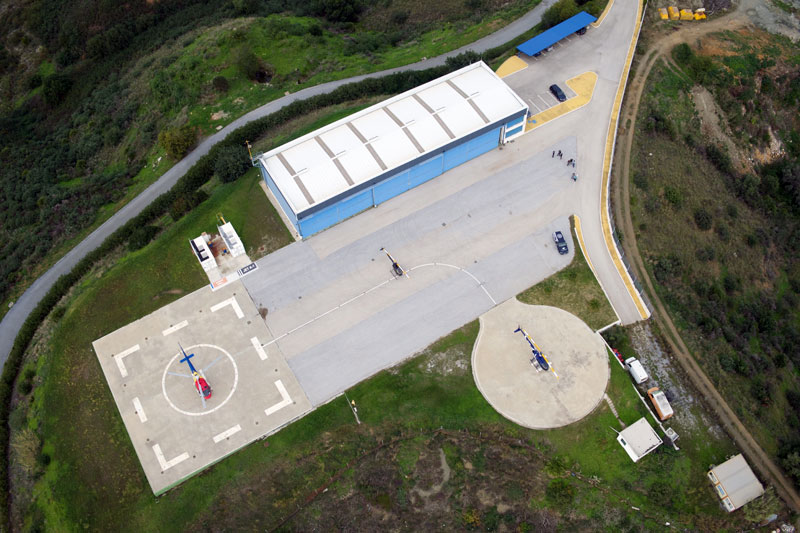 ---
Available Training Centers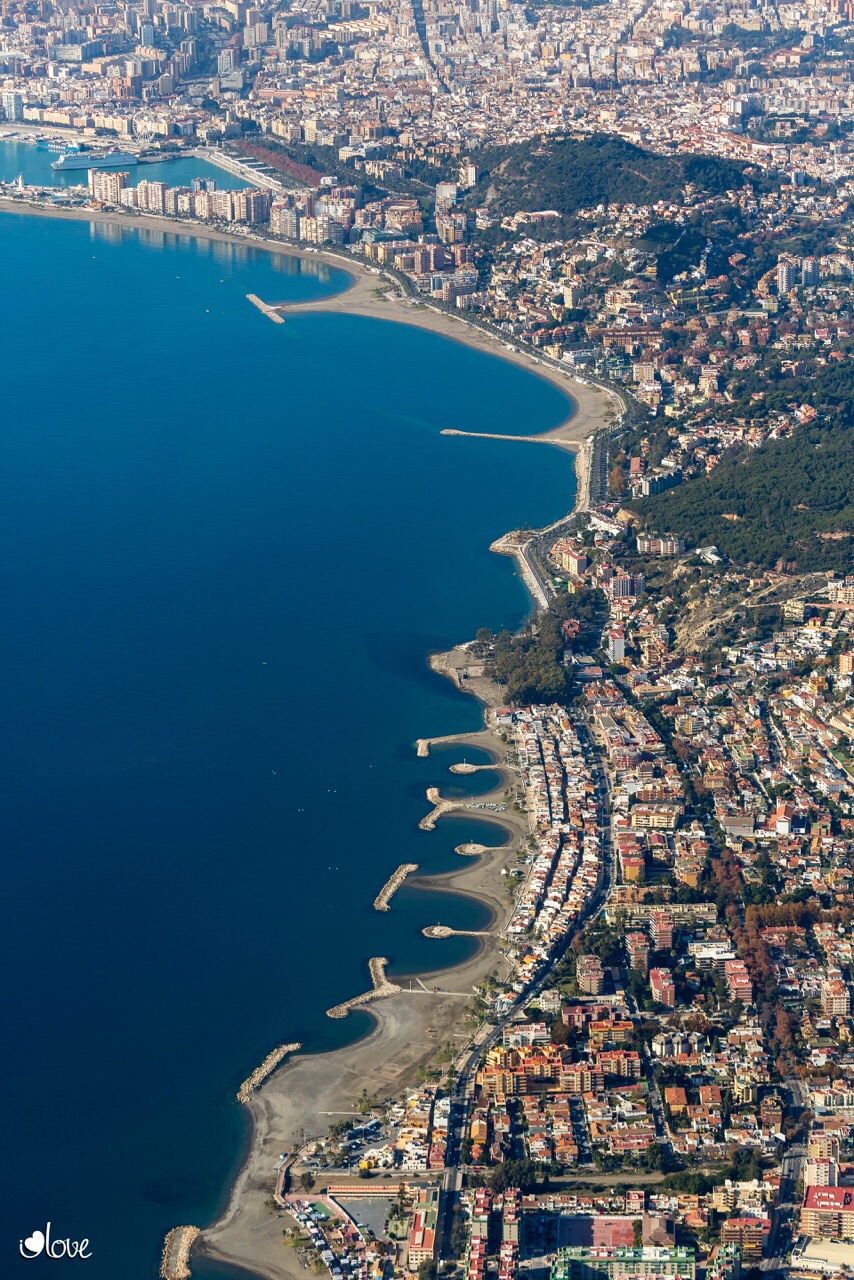 ---
Malaga – Costa del Sol
Our Pilot Training Centre in Malaga is located at the Malaga – Costa del Sol International Airport with additional training facilities in Marbella and Velez-Malaga.
The advantages for the student include learning to operate in a variety of airfield conditions from a busy International Airport to regional airfields as well as a variety of private landing-sites. The Costa del Sol offers a great range of flying conditions including mountain flying thus providing a complete range of skills and experience to the student-pilot.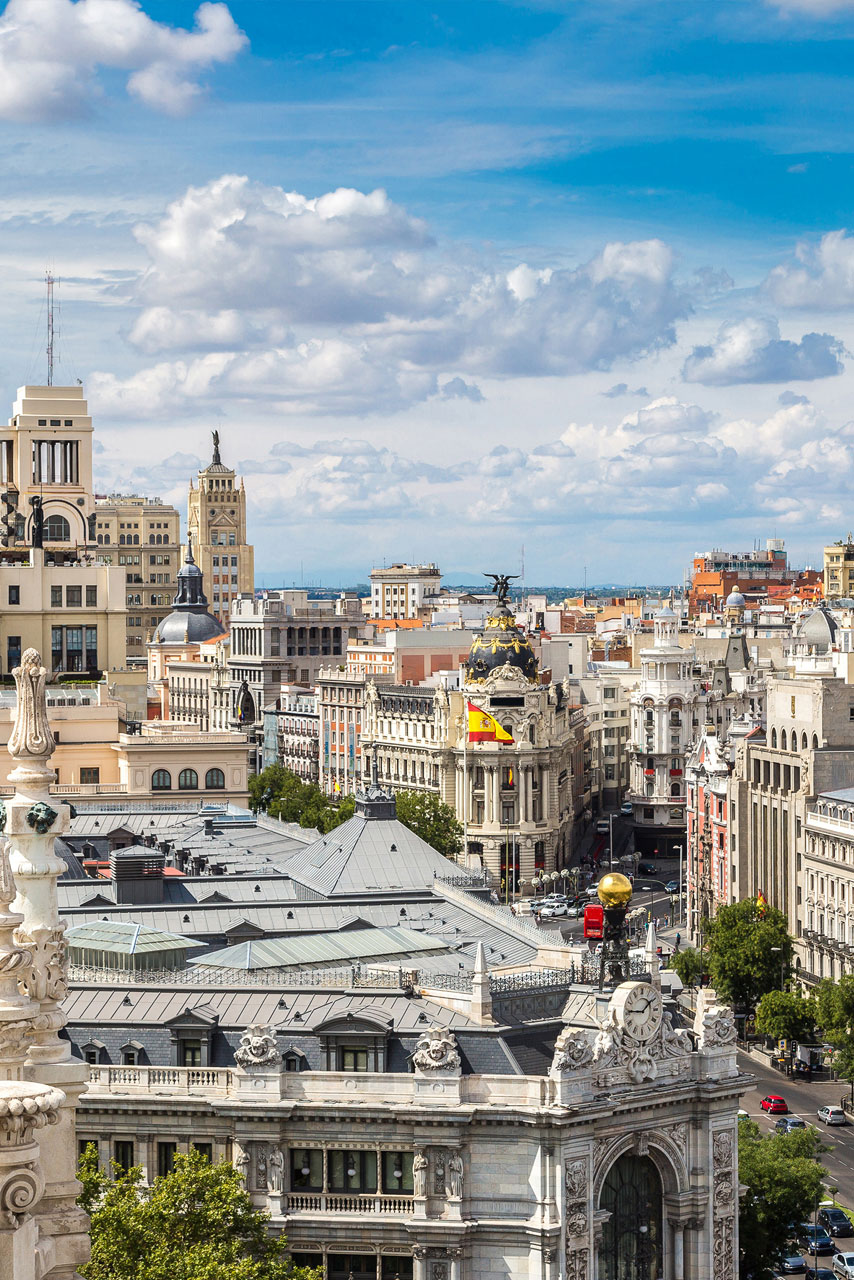 ---
Madrid
Our Madrid Training Centre is located at the Cuatro Vientos Airfield in South-West Madrid. This dynamic airfield provides a great training environment with many of the features of larger airports, a mix of busy air-space as well as wide-open terrain perfect for navigation practice and cross-country flying.
Add to this our modern teaching facilities & class-rooms and we are confident you will find an exciting and enjoyable learning environment.
---
Gerona Training Centre:
Our Gerona training center is located at the heart of the Costa Brava near the town of Playa de Aro. This airfield is a short distance from the coastline with its small bays and inlets, offering a diverse and exciting flying environment.
Flight-training in this area is complimented by close proximity to Barcelona for unrivalled cultural visits during down-time.
---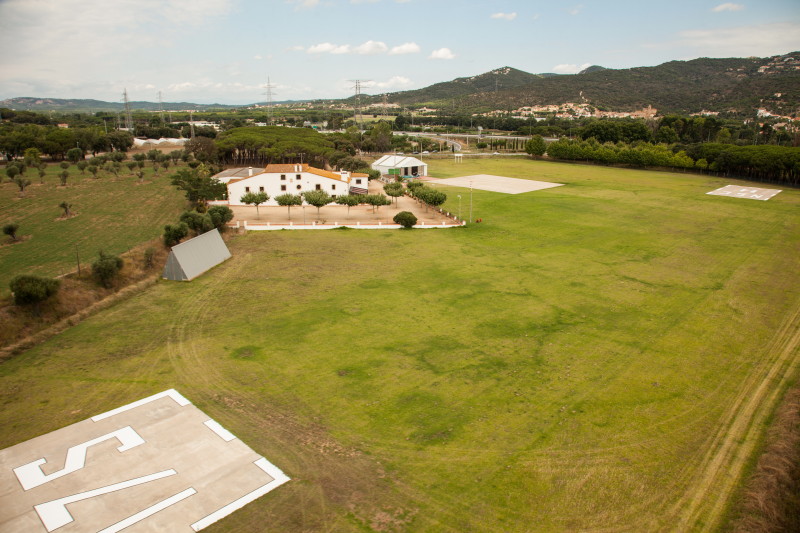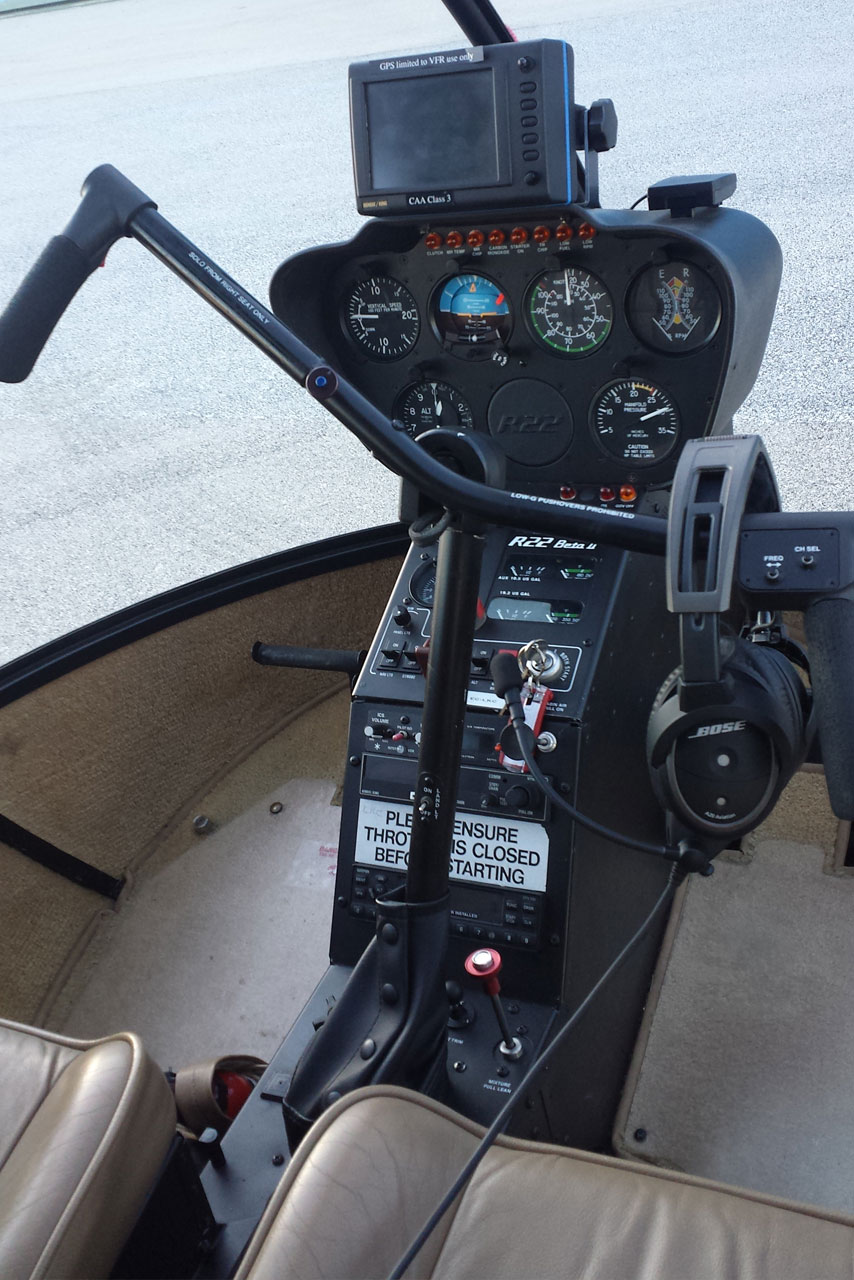 Robinson Helicopters R22 Beta II
This new generation aircraft is the most popular pilot instruction helicopter in the world today. As the most agile aircraft in our fleet, the R22 offers cost-effective and safe solutions for pilot training and hour building. This aircraft is very sensitive to the flight-controls and requires a light touch to fly. For this reason, pilots who learn to fly in the R22 have very little difficulty in transitioning to larger machines later on in their flying careers. As most schools use the R22 for training, helicopter pilots who have experience in this aircraft are very well positioned to be hired as Flight Instructors in the future.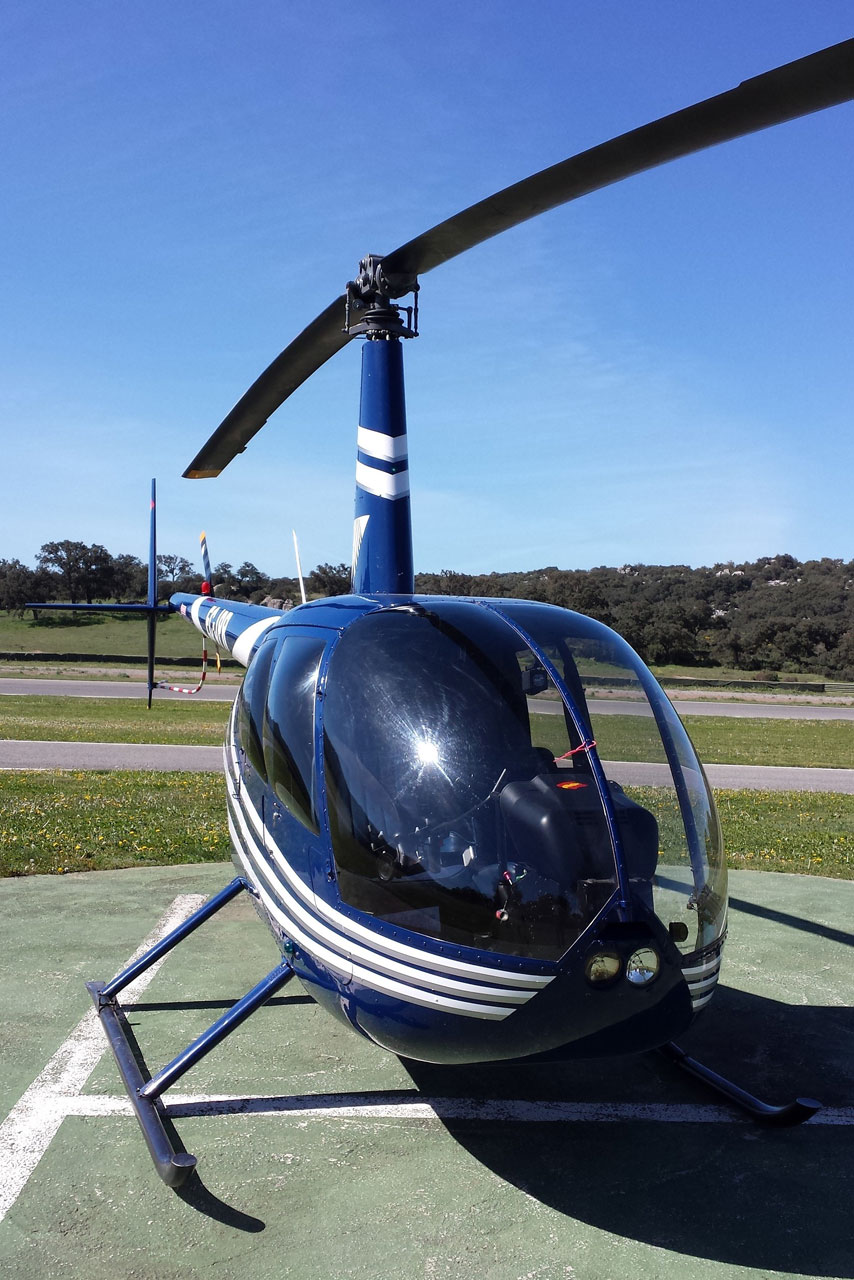 Robinson Helicopters R44 Raven II
This versatile aircraft, the big brother of the R22, offers a larger power-plant, hydraulic-assisted flight controls, panoramic views and seating for up to three passengers. The larger seating capacity and operational range make this the most widely used aircraft in our fleet and provides the logical next step up from the R22.
SPECS:
Engine Type: Lycoming O-360 four-cylinder, carbureted Derated to 131 hp for takeoff and 124 for cruise 1370 lb (621 kg)
Capacity: 1 passenger
Cruise Speed: 96kts / 177 kph
Maximum airspeed: 102 kts / 189 kph
Max Operating Altitude: 14000 ft / 4267 m
Operative Range: 240 mi / 386 km
SPECS:
Engine Type: 6 cylinder Lycoming IO-540-AE1A5
Capacity: 3 passengers
Maximum Payload: 408 kg
Cruise Speed: 108 kts / 200 kph
Maximum airspeed: 130 kts / 240 kph
Max Operating Altitude: 14108 Ft /4300 m
Operative Range: 302nm / 560 km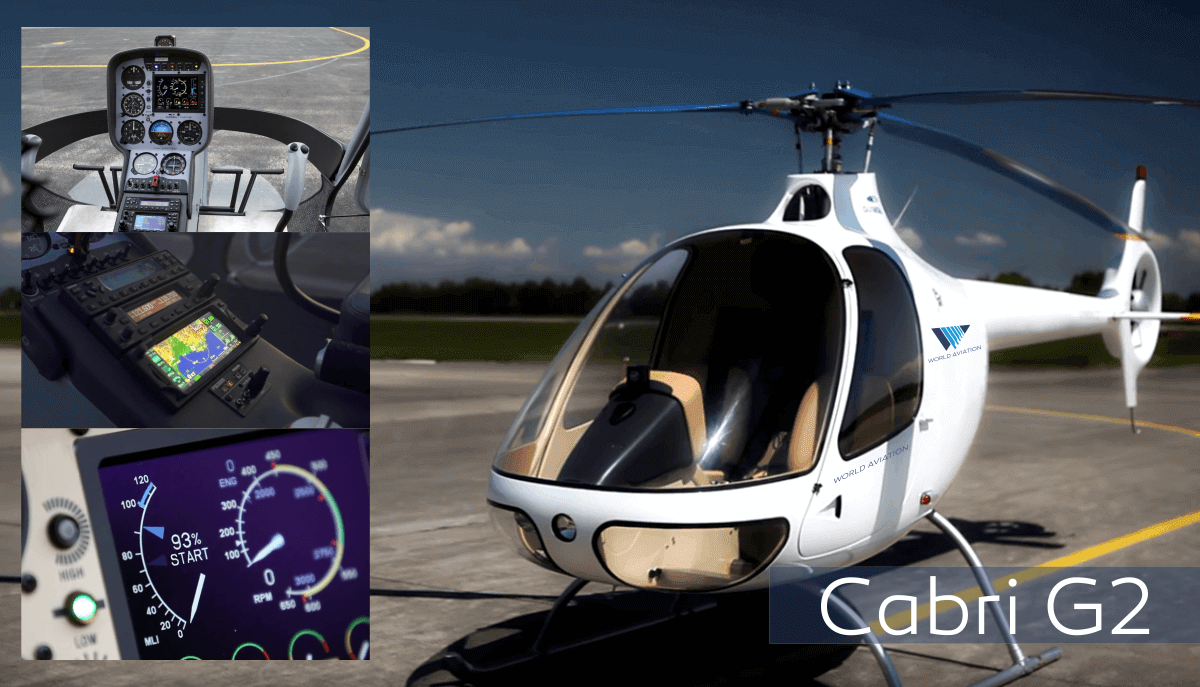 Cabri G2
The helicopter Cabri G2 is an innovative aircraft with important advances in safety, environment and energy efficiency.
With a fully articulated, high-inertia three-bladed rotor head, which is a great safety feature, autonomy and Fenestron Tail Rotor to reduce the likelihood of Loss of Tail Rotor Effectiveness (LTE) with a right crosswind.
The light training helicopter CABRI G2 is the only piston helicopter designed from scratch with the safety of its occupants as top priority.
The Cabri G2 brings glass-cockpit features to the training helicopter market with what they call the Electronic Pilot Management (EPM) system.
SPECS:
Engine model:   Lycoming O360-J2A with STC EASA E.S.01001
Max capacity: 170 litres (45 US Gal)
Cruise speed: @ 85%       90 kt (166 km/h)
Maximum endurance: @ 50 kt (no reserve)         5 hr 40 min
Range: @ 85 % (15 min reserve) 380 nm (700 km)
Hovering ceiling:  (2×77 kg + fuel 2 hrs)    7,500 ft
---
IFR / MCC / Multi-Engine Simulator:
With World Aviation Helicopter Flight Academy, our students have access to the most advanced helicopter flight simulator available today. The FNTP III enables our students to gain invaluable flight-time and skills with a greatly reduced cost per hour.
This advanced flight simulator replicates an AS332 / AS532 Super Puma / Cougar helicopter and has been certified by the AESA under visual (VFR) and instrument flight rules (IFR).
The FNPT III MCC is equipped with a complete set of instruments and flight-controls and incorporates a class-specific flight model. The environment enables visual scenery with continuous time-of-day settings, airport lights, wind and cloud layers, visibility and an atmospheric model. The instructor station has an easy-to-use intuitive user interface with malfunctions page, map page and weather page.
This simulator allows for considerable savings on multi-engine and instrumental flight training. Further savings are made with the highly efficient range of in-air exercises such as autorotation reflexes, instrument maneuver training as well as hovering and basic flying.
FNPT III Helicopter Simulator Features:
Dual flight controls
Pilot/Co-Pilot specific instrumentation
Full autopilot capability with flight director and navigation coupling to VOR and GPS
Night scenery with different weather conditions
AS332 cockpit configuration
Enclosed instructor station